Welcome to Ozaeros Team Members
There is some general information about Ozaeros here.

David's new book, Aerobatics Down Under, is now available! Everything about flying aerobatics in the Super Decathlon including how to win aerobatic competitions and information for aerobatic instructors.
Purchase the paperback version at Amazon USA, Europe etc and from Skylines at Moorabbin Airport – they are happy to post anywhere in Australia.
Purchase the Kindle version at Amazon Australia, Amazon USA etc.
EAA AIRVENTURE SPECIAL for USA buyers only – for the first week of August the Kindle version has a 50% discount and the paperback is reduced from $35 to $25. Apologies to those in Australia – the Kindle discount didn't flow through and, as for the paperback …….
Amazon Australia sources the paperback from a reseller who is profiteering from my book so it has an extreme 65% markup on the USA price – buy it from Skylines at Moorabbin Airport.
Training Information
Have a look around the pages for information on courses available. More information supporting the training is provided on password protected pages for trainees. The password for the quizzes is: quiz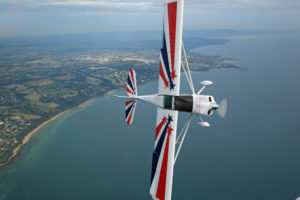 Much of the training information has been for the Super Decathlon with a bit of information on the Pitts S-2A but now, with the joint acquisition of VH-DAJ, there will soon be information added about the Pitts S-2C.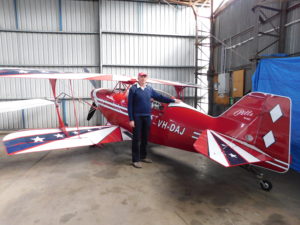 Join Ozaeros
Sign up to the Ozaeros Newsletter at the Manage Subscriptions Page.
You'll also want to sign up to the Ozaeros Facebook Page – perhaps even the little used Ozaeros Mailing list. The Ozaeros Facebook Group is pretty much defunct.
There is provision for people to register at this website and this will provide access to make comments on a number of the pages. Contact David if you want to register.
Articles and Blog
David's articles, discussion papers and rantings are all online at http://aerobaticsaustralia.net/ with the historical blog at http://davidjpilkington.blogspot.com.au/.
Aircraft Bookings
UPG is currently available only directly from Ozaeros and booked online at https://www.goboko.com/ORSignon.aspx – contact David for access at Contact.htm.
Pilots will need to sign the hire agreement prior to access to the aircraft.